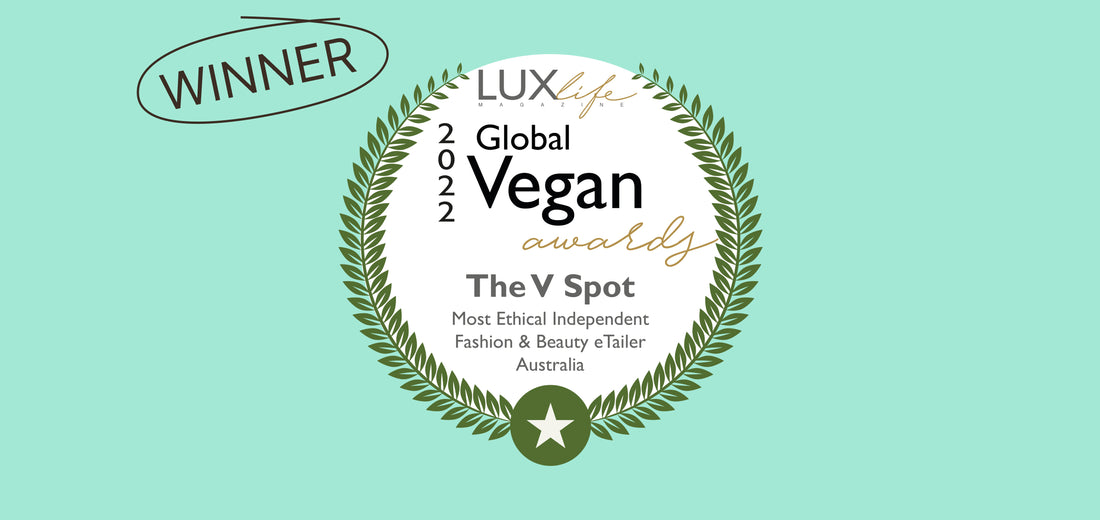 The V-Spot wins Australian Most Ethical Independent Fashion & Beauty eTailer at the 2022 Global Vegan Awards
We're thrilled to share our win at the 2022 Global Vegan Awards as Australia's Most Ethical Independent Fashion & Beauty eTailer! Check out the wrap up below.
When Jannifer Black founded The V-Spot, her aim was to showcase a collection of fashion and beauty products that prove you really can have it all and be vegan, eco, ethical, and fabulous. An online destination for the fashion "conscience", it offers the ultimate in eco and ethical fashion (apparel, shoes, bags, and accessories such as jewellery, watches, and belts), and clean beauty (skincare, make-up, haircare, and fragrance). In light of The V-Spot's success within the Global Vegan Awards 2022, we got in touch with Jannifer herself to learn more about her brand.
The V-Spot is a one-woman show proudly offering vegan, cruelty-free, ethically-made, environmentally-friendly products, while being supportive of indie designers, small businesses, solo makers, and communities, and ensuring that everyone in the process is paid and treated fairly.
Beginning our chat with Jannifer Black, she tells us, "I created The V-Spot with the aim of elevating the vegan lifestyle beyond just a diet. I've lived a life always trying to do and be better to everyone I share this planet with. To inspire others to make better, conscious choices – when it is needed – is the mission."
She highlights Animals, People, and Planet as her company's core values, explaining, "These values have been my raison d'etre from the very beginning of establishing The V-Spot. As a fourth-generation vegetarian (and vegan for 30 years this year), animals were my number one reason to not participate in their unnecessary exploitation. But as an intersectional vegan, it's always made sense to me that being sensitive and considerate to people and the earth was as equally important."
Thus, Jannifer has a personal connection to everything The V-Spot stocks. Obviously, every brand and product in store must meet her core values – but it goes beyond that. If it's not something that Jannifer uses or wears herself, then it doesn't make the cut. Vegan shoppers will know how it is difficult to purchase online, so Jannifer believes in relaying her personal experience to her customers.
She states, "I'm not interested in what's popular or what's easy. I look for authenticity, efficacy, beauty, functionality, quality – not necessarily in this order – but I believe my discernment makes for some of the best product offerings around!"
And she knows exactly who her customer is, with a gender mix of 69% female, 16% male, and 15% other. They are aged 18-65 with the biggest concentration in the 35-44 bracket (29%), followed by 25-34 (22%) and 45-54 (20%). Jannifer says, "Anecdotally, my client split is about 60% non-vegan and 40% vegan, and I love that approximately 10% of our non-vegan customers buy for their vegan friend or family member. Although, I always tell people you don't need to be vegan or vegetarian to enjoy the products I stock. They're for anyone looking for quality. It just so happens that cruelty to animals isn't included."
She notes the most popular products among her customers, too. In the clean beauty category, these are the range of natural deodorants (in particular the zero-waste options by Meow Meow Tweet and Coconut Matter); the gender-neutral, non-toxic, and uber-cool fragrances by DEDCOOL; and the incredible plastic-free, multi-use colour Balmies by Axiology. Then the fashion products include Alexandra K and their high-end luxe handbags; and the loud, proud, and (some very) cheeky statement socks by Blue Q.
The V-Spot is proud to have newly introduced the Axiology Balmies to its product range, and in fact, the Australian market. Jannifer comments, "For a long while, most of our brands were exclusively sold through us. Our success with these brands did "inspire" competitors to introduce these brands to their own stores. Testament to our passion for supporting only small makers and businesses."
Its current website was also recently launched in June 2022 which saw the store migrate to a different ecommerce platform – a huge task considering the company was six and a half years in with more than 2,000 products. Now settled into the new site, Jannifer is still working on improving it to make it a better, more informative, and prettier user experience.
Looking ahead, as Jannifer continues to dedicate herself to her passion, we have no doubts about the bright future that lies ahead of her company and the positive impact she is having our planet.