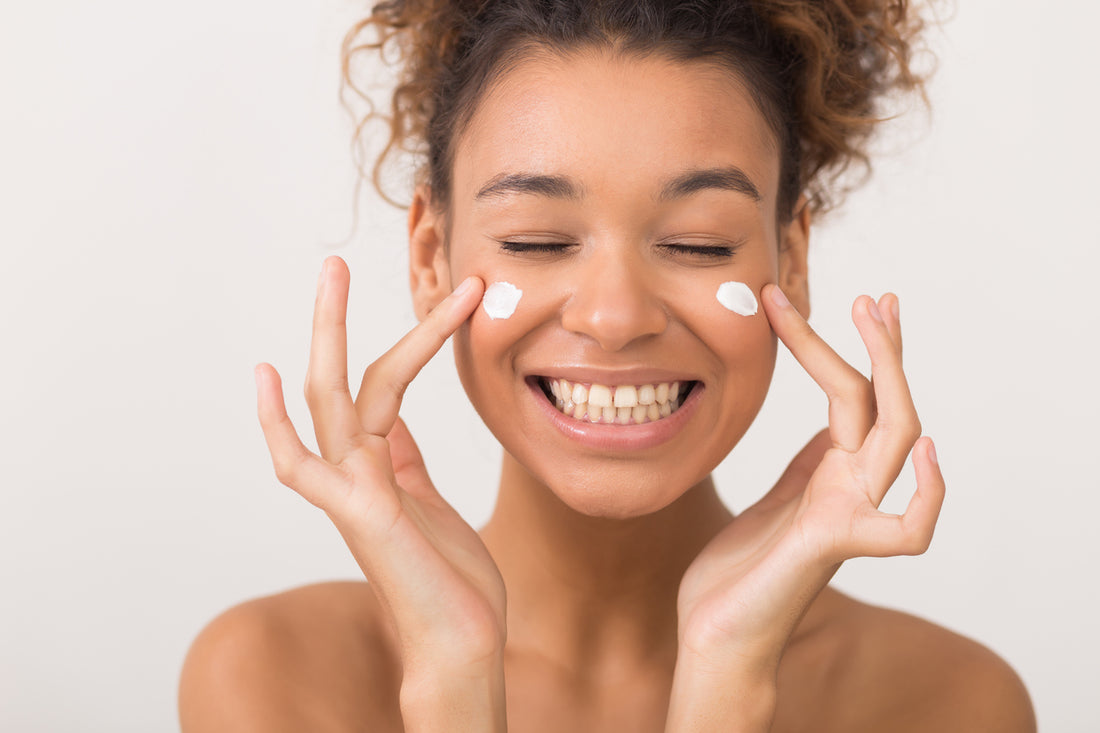 Spring skin doesn't have to be tricky. As the temperature begins to rise and all that's laid dormant begins to flourish again, it's time to reconsider our skincare. And by that we mean, let's lighten things up a little! Spring skin typically can make do with a lighter moisturiser, or even just a serum, and of course, it goes without saying that sunscreen is a must. Here are some tips and recommendations from the Vegan Beauty Editor to help keep your spring skin glowing and radiant, right through to the end of summer.
With thanks to the Vegan Beauty Editor for her expert advice on Spring Skin.
Revise your CLEANSING ROUTINE
Correct cleansing is the cornerstone of beautiful skin, especially when we're talking spring skin. Without it, your skin can quickly become clogged from sweat, sunscreen, and other pollutants. Cleanse twice at night - once for makeup, once for daily debris - and once in the morning to remove cellular waste from the skin's overnight repair process. Select the best quality cleanser, suited to your needs, that your budget allows:
☼ Oily/Congested Skin - try Face Cleanser by Meow Meow Tweet is a super gentle cream cleanser with restorative essential oils
☼ Combination Skin - Herbal Balancing Oil Cleanser by Vered is an effective, hydrating oil cleanser that balances and nourishes the skin
☼ Normal to Dry Skin - Australian Kakadu Plum Gummy Facial Cleanser by Olixa
Check your EXFOLIATOR
Exfoliation is the process of removing the outermost layer of dead epidermal cells on the surface of your skin. Exfoliating helps with skin texture and encourages your skin to produce fresh skin cells. Keep your exfoliation routine to once or twice a week, and be mindful that experiencing pain or burning is not the goal!
☼ Dry/Sensitive Skin - stick to exfoliating once a week with Matcha Lime Exfoliant Mask by Meow Meow Tweet
☼ Oily/Congested skin can take it up a notch and exfoliate twice a week with Le Chocolat Citrus Foaming Face Scrub by VERED. Our best smeller (yes, you read that right)
☼ Look no further than Resurface Scrub by NOTO for a combination physical (Walnut Shell Powder) and chemical (various AHAs) exfoliator. Best of both worlds!
Shop Exfoliants Now
Enlist a new SERUM
Just as you can't expect different results if you do the same workout each day, it helps to swap out your serum seasonally to bring some pep into your spring skin. If you've been using very active ingredients, look for a serum with hydrating and lifting properties (and vice versa)[/vc_column_text][divider line_type="No Line"][vc_column_text]
☼ All skin types - Pollution Defense Serum by Osco is the choice if you're out and about a lot (are any of us out and about much these days?). Packed with nurturing Omega Fatty Acids while protecting your skin against environmental aggressors
☼ Dry/Sensitive skin will drink in the simplistic goodness of Rosehip and Pomegranate Serum by Shanghai Lil. It's laden with vitamins as well as fatty acids to nurture and protect spring skin all without any essential oils and fragrance
☼ If your skin is maturing, try applying Clary Sage Drops by SkinOwl. The magic of only two ingredients that are restorative, smoothing, and plumping
Include a MASK
Keep two types of masks in your vanity - one that takes and another that gives
☼ A mask such as Clarifying Detox Mask by VERED draws out impurities
☼ While Cacao Vanilla Beauty Mask by VERED will infuse hydration, vitamins, and omega fatty acids into the cells to allow your spring skin to really glow!
Always use SUNSCREEN
Always use sunscreen, no matter what time of year. Choose one with antioxidants to help fight pollution as well as UV rays. Try Everyday Sunscreen by Meow Meow Tweet Pump or no Pump
Current stock of MMT Everyday Sunscreen is pumpless. You can purchase a pump separately which you can repurpose or recycle. Reef safe, non-nano zinc oxide, thick lotion texture.
BRIGHTEN up your Spring Skin
Now is the time to get flirty, colourful, and playful with your makeup. Brighten up spring skin with makeup's most universal shade - Coral. It suits every skin tone, eye colour, and hair hue
You should be outdoors soaking up the gorgeous weather, so save time with these multi-taskers. Malibu Magic by Axiology, Destiny Anywhere Multistick by Au Naturale, or Grapefruit Anywhere Multistick by Au Naturale.
Simply blend lightly over eyelids and cheeks, and tap over your lips to create a perfect pout. Other notable Coral beauties we love are Peony Petal Blush by Everyday Minerals, Montague Lipstick by Gemma Vendetta, and Feeling Fuego Nail Polish by Deco Miami.
And for the quickest of fresh looks, look no further than a highlighter to show up your best features and provide a dewy, hydrated finish to your complexion. Hydra Highlighter gives you an effortless glow for those no-makeup makeup days!
Thanks to the Vegan Beauty Editor for her top tips on transitioning our skin to the warmer months.
Main photo credit iStock by Getty