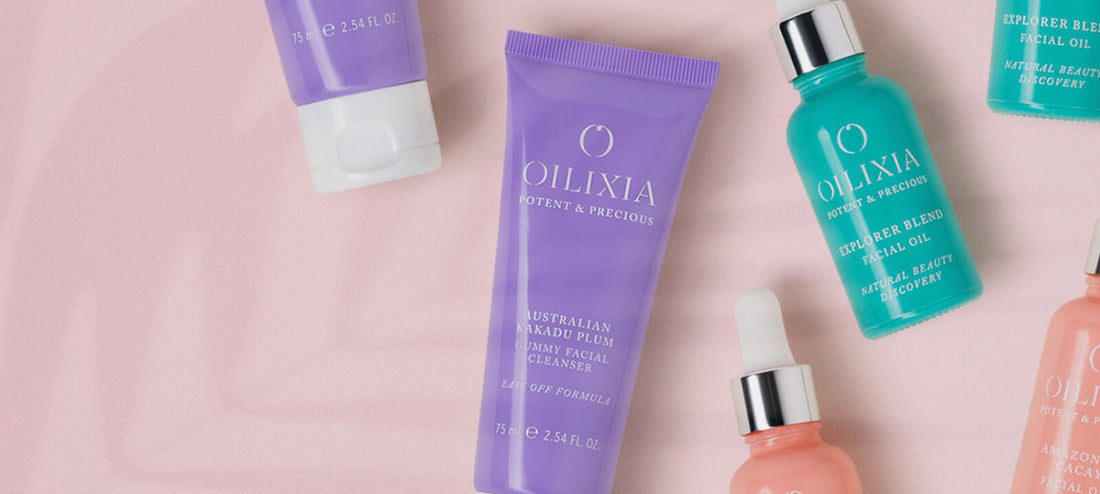 Oilixia Potent and Precious
Oilixia - Potent and Precious, is a clean beauty brand inspired by adventure and nature. Celebrating rare botanical oils and extracts treasured by indigenous cultures for their natural beauty and potency, Oilixia is a small-batch, British-based producer of clean skincare that is free of parabens, synthetic fragrances, animal-derived ingredients and gluten. They work with local suppliers to source their star ingredients which supports their community and the local environment.
In keeping with their wanderlust lifestyle all products* are under 100ml, making them travel friendly!
*except new Jumbo size Australian Kakadu Plum Gummy Facial Cleanser. Jumbo tube size is 150ml
Why we love, love, LOVE!
♥ Cruelty-free, vegan, clean and green
♥ Exotic ingredients inspired by adventure and nature
♥ Ethically sourced ingredients
♥ Small-batch production
♥ Capsule collection and multi-tasking products
♥ Supremely effective with visible results
♥ Super concentrated - a little goes a long way!
♥ Wanderlust-friendly
♥ Suitable for all skin types
Shop Oilixia now!
[/vc_column_text][/vc_column_inner][/vc_row_inner][/vc_column][/vc_row][vc_row type="in_container" full_screen_row_position="middle" scene_position="center" text_color="dark" text_align="left" overlay_strength="0.3" shape_divider_position="bottom"][vc_column column_padding="no-extra-padding" column_padding_position="all" background_color_opacity="1" background_hover_color_opacity="1" column_link_target="_self" column_shadow="none" column_border_radius="none" width="1/1" tablet_width_inherit="default" tablet_text_alignment="default" phone_text_alignment="default" column_border_width="none" column_border_style="solid"][divider line_type="No Line"][divider line_type="No Line"][/vc_column][/vc_row]