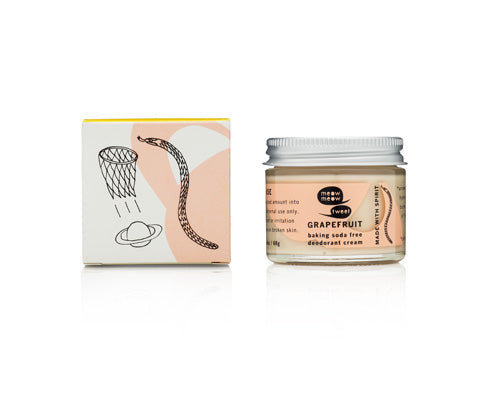 Divine Skincare - Made with Spirit!
We love, love, LOVE Meow Meow Tweet! Its divine small-batch skincare products are heaven for your skin. MMT's blissful product range includes deodorants (they really work - one of our bigger sellers month in, month out!), soaps, body & facial care, and are suitable for the whole family*!
Their signature exquisite and quirky handcrafted packaging is just as much a feature as their gorgeous formulas *including nursing mama's and their babies, sensitive skin types and even the family pooch!  We'll let you know in the products description if suitable, but always exercise caution. Everyone's skin is different!
Why we love MMT!
We could have selected Meow Meow Tweet just for their name - love it! But there is so much more to fall in love with this brand - that's why THE-V-SPOT is a proud and long-time MMT Stockist (for AUS and NZ). We are the only store down under to carry the complete range!
With whimsical designs (by one of their founders!) their packaging is gorgeous. They strive to use as little
plastic, as possible, in their products or packaging, instead opting for hand wrapping in PCW paper, using screen-printed glass containers or compostable and bio-degradable packaging. They strive to be as environmentally responsible without sacrific
ing customer experience or product efficacy.
And like all THE-V-SPOT products, MMT is crafted from pure, all natural ingredients, such as unrefined plant oils & butters, steam-distilled and cold-pressed essential oils and organic and wild-crafted botanicals. No toxic chemicals, no synthetics, no cheap fillers - just no yuck at all!
Meow Meow Tweet is 100% Vegan and is Leaping Bunny cruelty-free certified.