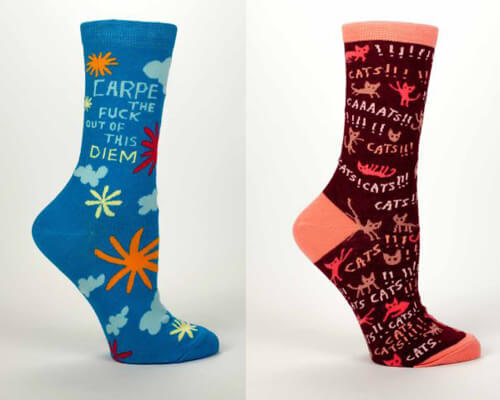 Blue Q - Life-improving. Joy-bringing!
Blue Q. Their mission is to make "Life-Improving. Joy-Bringing" products that make you happy! For over 30 years, they've been weaving cheeky, fun and inspirational products such as their legendary socks, kitchen gear, and super useful and environmentally friendly bags, pouches and coin purses.
A portion of the sale of socks is donated to Medecins Sans Frontieres; 1% all sales of kitchen products is invested in programs to feed the hungry; while sales of their bags, made from 95% PCW, help worldwide conservatory action groups. Not only are Blue Q committed to externally do-gooding, they are an equal opportunity, all-abilities employer, ensuring all manufacturing is produced with integrity and fairness to all workers. Damn, don't this make you feel good?
Shop Socks, Purses and Lifestyle Products Now
Tailor your gift messaging
Super comfortable socks made from luxe combed-cotton
Unique - and often cheeky designs
Perfect gifts for everyone
Various sized bags, pouches and purses made from 95% PCW
Blue Q donate a percentage of sales to humanitarian and conservational causes
They are an all-abilities, equal-opportunity employer