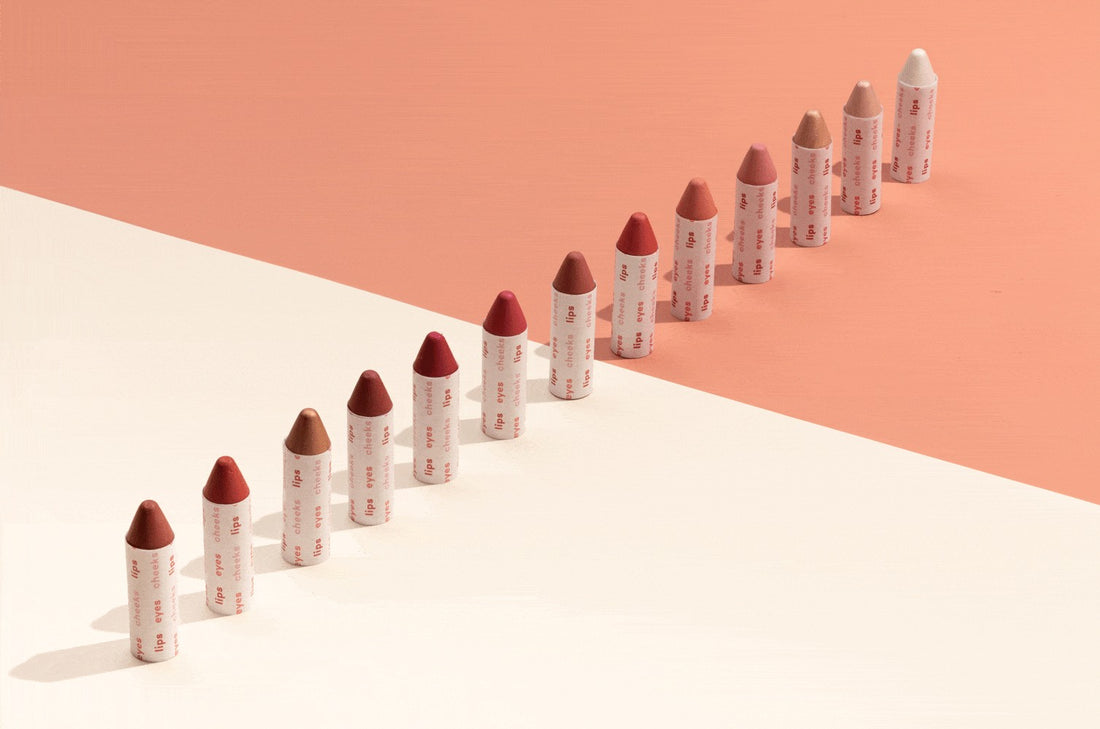 Axiology Evil Free Lipstick
Axiology Evil Free Lipstick, lip colour products crafted from delicious elements. Their range of all natural lipsticks and lip crayons feel divine on your lips and taste great - only 10 and no questionable ingredients!  Its extensive colour palette ensures there is an Axiology shade to suit everyone, day or night. Boasting long-lasting colour, sustainable packaging, ethical practices and 100% Vegan ingredients, Axiology is an affordable, everyday luxury.
And new in to The V Spot is their revolutionary Lip-to-Lid Balmie's. Zero waste, multi-use, evil free colour crayons. Wow!
Shop Axiology Lipsticks
Inspiring ingredients
Axiology is crafted from organic Vegan ingredients that leave no trace on the planet and include;
Avocado and Coconut
Castor Oil and Candelilla Wax
Orange, Elderberry, Grapeseed, Plum Seed Oils
Vitamin E Oil
Kokum Butter
Non-nano Mineral Powder
It goes without saying that Axiology Lipsticks contain no harsh chemicals, toxins and is absolutely free of animal testing.
Axiology Evil Free Lipstick
Axiology create their lipsticks from a balanced blend of organic ingredients and natural mineral pigments. The result is vibrant colours suitable for any complexion, that last all day.
THE-V-SPOT faves are Attitude, Bonafide, Clementine, Fortune, Keen and Watermelon. Although, with over 50 colours to choose from it's difficult narrowing down a playlist of favourites!
Check out our entire Axiology range to find your perfect shade
Innovative Ethical Packaging
A fantastic story in true ethical production. Founder, Ericka discovered a woman-owned recycled-paper boutique in Bali, that source their paper - which helps in rubbish reduction - from all over Bali, such as from homes, hotels and local businesses. From here it is recycled naturally - boiled down to a pulp, sun-dried, then folded and decorated all by hand. Inspirational!
About Axiology
Creator Ericka loves lipstick - but as a long time Vegan and healthy living advocate, she abhors anything unnatural - which put all available lipsticks out of reach. So Ericka decided to try it herself, with a vision to create a luxury Vegan lipstick line.
Ericka spent over a year perfecting her lipstick formula, and Axiology was born. A true labour of love, she now has an extensive range, available in Australia from THE-V-SPOT!
Axiology also gives back by donating a percentage of profits to the Orangutan Foundation International, PeTA, and other humane societies.
Axiology - Gorgeous for the Body, Great for the Planet