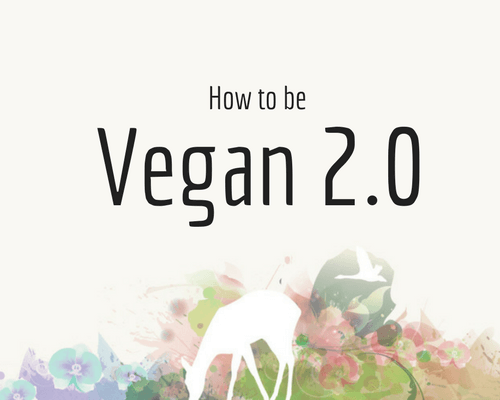 Whatever reasons compelled you to become a Vegan, it was a deeply personal decision and one that is extremely important to you.
However being a Vegan is not just about food - have you thought about what comes next once you have your new menu sorted?
Why? Here's a review of what's in stuff.
The great news is that getting more Vegan in your day-to-day life doesn't mean you miss out. Far from it! There is just so much awesome Vegan, Cruelty-free and Ethical fabulousness, that you can stay true to your beliefs but still have amazing fashion, makeup, clothes, shoes and lots more.
Just like becoming a foodie Vegan could have been a gradual process for you, so is becoming Vegan 2.0. Here's some top tips:
As things wear out replace them with Vegan choices
Makeup has a short shelf life - so it's an easy first step
Make a THE-V-SPOT wish list for your next birthday. We have an easy to use wish list that you can share to give your parents a nudge
When thinking about your next step as a Vegan, a good start is to consider what is truly important you - is it being animal and cruelty-free or perhaps becoming more ethical, or natural. The beauty is that if all of these mean something to you, you can have it all!
Animal Lover
If your decision to go Vegan was for your love of animals and abhorrence to animal cruelty it's time to get on board and make some other changes beyond your diet!
Ditch the Leather!
We have a fab range of Bags, Handbags , Belts, Wallets and Shoes that are animal free!
Cruelty-Free MakeUp
All our make-up is 100% personally selected to ensure that it is never, ever, ever tested on animals.
Natural
Chemicals are unnatural and unnecessary - especially considering that everything you put on your skin and lips ends up in your system. Eww! As your bottles run out, look at natural alternatives that won't pollute your skin.
Here are some great options:
Special mention here is nail polish - just by the smell of normal nail polish you can tell it's a jar full of toxic gunk.  Nail polish is an easy win to becoming more natural,
so as you run out or absolutely must have a new colour - check out these natural (minimum 5-free) options instead. #winning
Ethical
Clothing is the big thing here as the ethics involved in the mega-clothing factories are not great. We all know it, but it can be a challenge to make the switch.
Change your thinking to fewer quality (and ethical) pieces than loads of mass-produced, low-quality clothes produced in questionable conditions. Minimise or resist impulse buying, and when it is time to buy invest in pieces for their design, durability and functionality.
Then when your friends ask you where you got that fabulous piece, you can wow them with the awesome story behind how it was produced.
We founded THE-V-SPOT to make awesome Vegan fashion and beauty accessible in Australia.
We scour the globe bringing you the latest in all things Vegan and fabulous, so being Vegan 2.0 is an easy evolution!