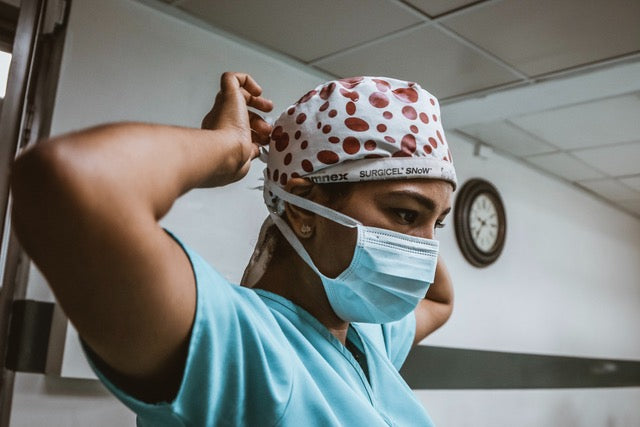 Skincare in the time of COVID-19
Covid-19 has brought with it many unpleasant things. The illness itself and subsequent death rates being top of the list.
And let's face it, lockdowns weren't fun. Neither was home-schooling. Nor were the restrictions around where we could go, how many people we could see, missing loved ones, being stranded overseas (or stuck here in Oz), and not being allowed to sing or dance
Lower on the list, but equally as frustrating (especially for frontline and essential workers), has been the mask mandates.
We agree they're essential to help stop the spread. However, there's that little issue we like to call Covid-19 Mask Complexion. It presents in many forms: oily, blemished complexions, dryness, or dry, chapped lips. Common to all, is that they are typically caused by the friction created when the mask rubs against your skin
So, it's vital to get a quality mask that fits well. As much we dislike the idea of anything single-use, it has been shown that
disposable, surgical masks
are the best fitting and most effective, so do opt for these. Only wear them once, to prevent becoming ill, and suffering skin woes.
Side note: Snip the ear bands before disposing of them (appropriately), so they are not a hazard to wildlife (in the case they end up escaping a rubbish bin)
Side note #2: Find a socially-distanced spot a few times each day to remove your mask and allow your skin to get some fresh air
Here, we offer some gentle, effective skincare solutions to Covid-19 Mask
Skin Issues
Covid-19 Mask-ne

This is an umbrella term for a range of irritations that can crop up from Covid-19 mask-wearing. These include blemishes and breakouts, oiliness, rosacea flare-ups, and uneven, bumpy skin tone.
The reasons these conditions occur are myriad. To begin with, if you're repeatedly wearing the same mask without washing it, or using the same surgical mask each day, you're depositing days' worth of debris onto your skin. The results? Congestion. Congestion leads to blocked oil glands, lumps and bumps, breakouts, and eventually oiliness as your skin tries to correct itself. If you are experiencing rosacea and dermatitis, it's likely that the friction created between the mask and the skin is causing the issue.
So what to do?
Avoid wearing make-up under your mask (nobody can see you anyway, right?). Skip foundation, blush, and lipstick (which can clog the skin) and simply
enhance your brows
and add some
mascara
to your lashes.
Next, use a cleanser and moisturiser for sensitive skin both before and after wearing your mask. We love 
Meow Meow Tweet Lemon Rose Cleansing Oil
. It has clarifying, decongesting, and calming properties, making it perfect for those suffering Covid-19 Mask-ne. For your moisturiser, look for a light, swiftly-absorbed formula that will calm and hydrate without adding to oiliness or congestion. Try 
Mu London Lavender Moisturiser
Calm redness and rosacea flare-ups with a soothing oil like
Vered Vitality Face Treatment Oil
, which has anti-inflammatory and protective antioxidant properties
Exfoliate regularly, too. Between one to three times a week is recommended for oily and blemished congestions. Use a gentle mask instead of a scrub, like
Meow Meow Tweet Matcha Lime Exfoliant Mask
. Scrubs are great, but when we're talking Covid-19 Mask-ne, we need gentle products that use ingredients like green clay to absorb impurities, and Aloe to soothe stressed skin. This mask will gently lift away debris and dead skin cells without adding to the friction you're already experiencing on your skin. If you're prone to rosacea, it will be helpful too, as both its aforementioned key ingredients are beautifully soothing and calming
Lastly, apply a barrier cream before you mask up.
Gemma Vendetta BB/CC Cream
is healing, calming, and protective. It's also non-comedogenic, which means it won't clog your pores. It provides a nice buffer between your skin and your mask.
Dryness and Chafing
Wearing a Covid-19 face mask day in and day out can exacerbate dry and dehydrated skin. What's more, it can lead to chafing and dry, flaky patches, particularly where the edges of the mask rest on your skin. Think: across the bridge of the nose and cheeks, and the jawline.
Again, cleanse and moisturise both before and after wearing your mask. For your skin type, try using a cream cleanser like Bear Peace Essential Daily Facial Cleanser, which has gentle clays to cleanse your skin, along with essential fatty acids for hydration and to ensure the protective lipid barrier remains undisturbed. 
As for exfoliating, you will need to use a gentle product (avoid a scrub, which may irritate your chafing further). Again, we would recommend Meow Meow Tweet Matcha Lime Cleansing Mask, which sits on the skin and absorbs impurities, rather than removing them with an abrasive action
When it comes to hydration, opt for an oil-based product to begin with. Your skin is thirsty and needs a decent drenching. Try massaging a few drops of Raw by Trice Blue Beauty Drops Facial Oil. It's deeply hydrating and brimming with protective antioxidant properties. It also has calming, anti-inflammatory benefits. Follow with a moisturiser such as Noto Botanics Moisture Riser Cream. Formulated around Hyaluronic Acid and plant botanicals, it will dose your skin with hydration. Finally, apply a barrier protector before donning your Covid-19 Mask. Try Gemma Vendetta BB/CC Cream 
You may also get some dryness and irritation around your ears, from the straps that hold your Covid-19 mask in place. If this is the case, extend your skincare to this area.
Dry, chapped Lips
Once again, this comes about due to the friction caused by mask wearing. It's likely that all the mouth-breathing you're doing whilst wearing your mask contributes, too. Those who wear glasses will be more prone to mouth breathing than those who don't - to prevent issues of fogging. The other issue is that lips have no oil glands, so unlike skin, they can't regulate hydration as well. Furthermore, their protruding nature means that they are more likely to rub against your mask.
Solution?
Firstly, try exfoliating your lips every few days with a quality scrub such as Everyday Minerals Pomegranate Lip Scrub. This sugar scrub helps buff away dry, dead skin cells, while infusing moisture with jojoba oil. Keep a deeply hydrating lip balm on hand at all times and whenever you get a chance, slather it all over your lips to rehydrate and protect. Try using eLo Day Lip Balm, which is a clear balm enriched with avocado, shea and jojoba oils to deliver superior hydration to dry, chapped lips.
With thanks to the Vegan Beauty Editor for her expert advice on Covid-19 Mask Complexion.
Main photo credit by Unsplash