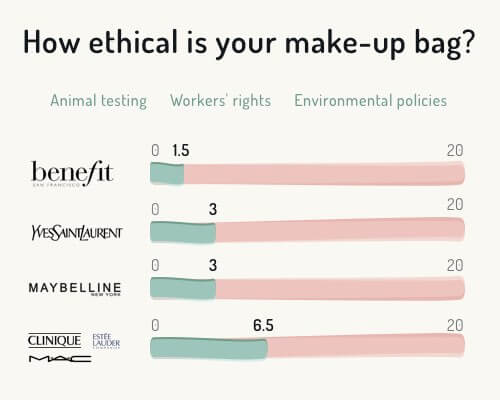 How ethical is your makeup bag?
Grab your makeup bag and shake out the contents. What brands are you seeing? If you have any of the big makeup brands - read on!
A recent published report by Ethical Consumer magazine scored makeup brands based on how they perform on factors such as:
Animal testing
Workers' rights
Environmental policies
Here's a snapshot.

So generally a woeful scorecard for the big brands.
Some reasons they failed the tests were:
Although a makeup brand may not conduct tests on animals, they are owned by a larger company that allows animal testing
They may boast a good ethical footprint of their own, but their parent company has questionable ethical standards
Not signing up to the Roundtable on Sustainable Palm Oil
Using plantations that Amnesty International found to have a 'wide range of abuses' including child labour and exposure to toxic chemicals
Cosmetics that are sold in China are tested on animals as legislated by Chinese regulation
The use of Microbeads in their products - a "toxic time bomb" for our already fragile marine eco-systems
So what can you do?
Go ethical to make a difference to you and the planet! The good news is we've made going ethical easy for you as all THE-
V
-SPOT products are personally vetted and selected to be in line with our values: Vegan, Eco and Ethical. Our products are:
Never, ever tested on animals. EVER!
A collection of brands that can clearly demonstrate safe and fair working practices across their whole supply chain
Companies who source their ingredients with integrity ensuring they are both sustainable and fair
Genuinely clean beauty brands who are not out to "greenwash"
Fully transparent in their ingredients and labelling
Selected on their true natural status. We avoid products that contain toxins, cheap fillers, chemicals, and other questionable ingredients
From skilled artisans who mostly handcraft their own product
And the best thing is that the ethical, Vegan and natural world of cosmetics is extensive - so you won't miss out on anything. Far from it! You will benefit from a world of beautiful, truly clean beauty.
P.S. Don't forget to start your own THE-
V
-SPOT Wish List to share with your loved ones. Make it easy for them to buy for you, and show them an ethical lifestyle can be for everyone!