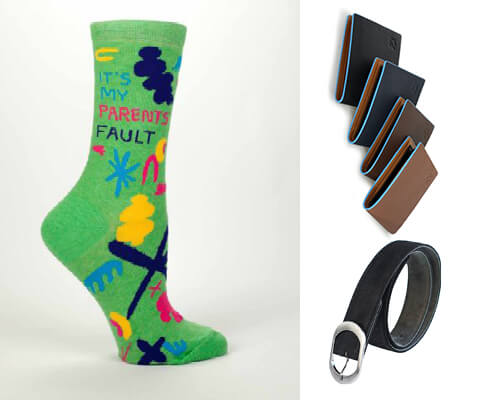 Teenage boys are tricky to buy for :(  However despair no more with our kickin' ideas that may even receive a mumbled thanks. High praise indeed!
Fast Shipping, Free delivery for orders over $100, Free return exchange shipping on clothing and shoes.
Cool Cruelty-Free Belts & Wallet
Ethical teenage boys will appreciate these must-haves that align with their beliefs but are still dope.
Belts
Michelle Leon Belts are a great choice for your teen who no longer wants anything to do with leather or other animal products. He will love that they are hand-made in New York from 100% recycled materials!
Wallets
The ultra-slim Gunas Wallet is made from eco-friendly vegan leather and recycled plastic bottles lining. It features 8 card slots, ID window pocket and internal note pocket. Choose from Black, Chocolate, Navy or Tan
Fab Skin Care Ideas
Full Mini Kit by SW Basics. Starter skin care kit that contains Mini editions of their Cleanser, Toner, Cream, Exfoliant, Body Scrub. Great natural deodorant choices are the Schmidt's Deodorant Range and the Alcome Deodorant Paste.
For some skin basics and everyday essentials you can't go past:
Cruelty-Free Shoes
Ethical teenage boys don't have to miss out on trendy shoes - check out our range.
THE-V-SPOT offers free return exchange shipping on clothing and shoes so you can shop with confidence!
Cheeky Socks
Socks are a teenage boys essential - so make his day with these fun choices. Life is too short for boring socks!
Don't miss out! Order today. 
Fast shipping – we process your order the same day! FREE delivery for orders over $100.
Shop with confidence! Free return exchange shipping on clothing and shoes.
All packaged with recyclable and/or recycled materials
Need more ideas for the teenage boy in your life? Contact us!